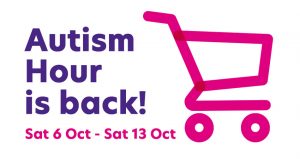 During the week of 6th – 13th October 2018, participating shops and businesses are turning down music and other noise, dimming the lights and shared information about autism with their employees.
To find out which shops and businesses are taking part, use the interactive map on the NAS website. Simply zoom in to where you live on the map, or filter by category.
Sainsbury's, Argos, Co-op, Superdrug, Lloyds Bank, Morrisons, Clarks are just some of the shops and businesses in Bristol and South Gloucestershire who are signed up to provide one hour of  an Autism friendly customer environment.
The following libraries in South Gloucestershire are also providing an Autism hour:
Kingswood Library – Monday 8th October 2018 10:00 – 11:00
Staple Hill Library – Tuesday 9th October 2018 11:00 – 12:00
Hanham Library – Tuesday 9th October 2018 14:00 – 15:00
Downend Library – Wednesday 10th October 2018 14:00 – 15:00
Filton Library – Wednesday 10th October 2018 14:00 – 15:00
Thornbury Library – Thursday 11th October 2018 13:00 – 14:00
Emersons Green Library – Friday 12th October 2018 10:30 – 11:30
Bradley Stoke Library – Friday 12th October 2018 13:00 – 14:00
Patchway Library – Friday 12th October 2018 14:30 – 15:30
Winterbourne Library – Friday 12th October 2018 15:00 – 16:00
Please check the NAS website for further information about Autism hour in your area