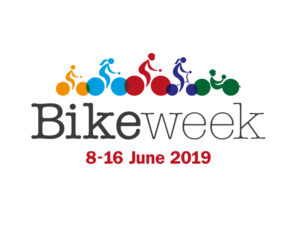 Calling on everyone to pledge to take part in a cycling activity seven times for the #7DaysofCycling ! During the month of June #7daysofcycling is a great opportunity to get out and enjoy a cycling activity seven times to celebrate Bike Week.
Bike Week, delivered by Cycling UK, is an annual celebration to showcase cycling. Riding a bike can easily be a part of everyday life and Bike Week is here to inspire people all over the UK to give cycling a try.
Give #7DaysofCycling a go
There are no rules on what counts as one of your seven – from riding to work, cycling to the shops, to giving your bike a spring clean to a pootle around a park with your mates – all you need to do is share a photo, video or story about your experience on Instagram or Twitter, using #7DaysofCycling. Get pedalling all!
For more details of registered events visit the Cycling Uk website. For more local registered events click on the following links: