Loneliness Awareness Week 2019: reducing the stigma of loneliness
Loneliness is something that will be experienced by everyone at some point in their lives. To help raise awareness and change the way we think about and acknowledge loneliness, Bristol Music Trust and Marmalade Trust are coming together to host Be Together Bristol; a day of free fun activities, performances and exhibitions promoting connection and friendship in Bristol.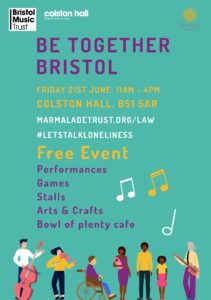 Held as part of Loneliness Awareness Week 2019, an annual campaign started by Marmalade Trust (a Bristol-born loneliness charity) in 2017, Be Together Bristol will be a family friendly day open to everyone looking to find out more about how they can reduce the stigma around loneliness and support people to find friendship.
So join us for a jam packed day of activities, fun and positivity!
Where: Colston Hall When: 11:00 – 16:00 Date: Fri 21 Jun 2019 Price: Free!
For more information about Loneliness Awareness Week 2019 or to download your Loneliness Awareness Week press pack visit https://marmaladetrust.org/law/
#LetsTalkLoneliness