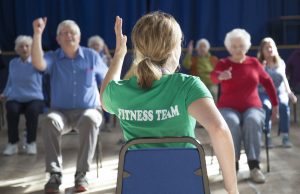 The council will launch plans tomorrow (7th February) to encourage older people to be more active as part of its plans to roll out Staying Steady classes across the city.
The classes are aimed at helping older people improve their independence, stay mobile and healthy whilst also offering a fun way to stay active and socialise.
Currently there are estimated to be around 58,800 people living in Bristol who are aged 65 or over and 55,000 (95%) are believed to be living independently. Of this 16,000 (around 30%) fall at least once a year, rising to 50% of those aged 80 or over. In 2015/16 there were 1,669 emergency hospital admissions relating to fall related injuries in Bristol*.
To help reduce the risk and rate of falls, the council is encouraging older people to sign up to Staying Steady classes which teach exercises which can help to improve mobility and increase confidence.
Inspiration for the classes has come from successful programmes in other parts of the country and locally where classes have been running at the Greenway Centre for over two years already.
Cllr Asher Craig, Deputy Mayor with responsibility for communities said: "As we get older we know that many of the things that people take for granted can get harder. Having seen classes running in the Greenway Centre we've seen how they can have a real impact on people's lives offering a chance to socialise, stay healthy and independent for much longer.
"If you're feeling unsteady when moving around, are worried about falling or are less mobile than you'd like to be I would encourage you to come and try out your local class in your local area. There will be four more venues for these classes from April so watch this space."
The classes are run by specially trained staff who can adapt the exercises to suit the needs of the people in the class. All abilities can be catered for including exercises which can be done standing or seated. Equipment like resistance bands, balls and hoops are provided as part of the class.
Becky Bostock, Fitness Instructor at the Greenway Centre, said: "We are delighted by the success of the staying steady class so far, and thanks to the new programme being rolled out, we are now able to add a third class to our timetable. There is clear demand for these classes, highlighted by Southmead's recent community plan, which shows a local ageing demographic. Feedback from the classes so far has been very positive, with participants reporting less falls and newly gained confidence. They especially enjoy the tea and coffee after the class and the opportunity to make new friends."
More information is available on the council's website: https://www.bristol.gov.uk/en_US/social-care-health/staying-steady-classes