What is Blue Monday?
Blue Monday falls on the third Monday in January each year; this year it is on the 17th of January. Psychologist Dr Cliff Arnall used a formula to calculate that this date is the the most depressing day of the year. The weather can be gloomy, the Bank Holiday festive break is a distant memory and people are more likely to be in debt. Add in broken New Year's resolutions and lower levels of motivation; this can all leave people feeling unhappy.
What can you do to help avoid Blue Monday feelings?
Luckily some Bristol organisations are coming together to put on an event on the 17th January to promote positivity. There will be a Wellbeing, Jobs and Apprenticeship Fair in the Galleries from 11am-3pm. Experts will be there to offer advice on debt, health, housing and energy.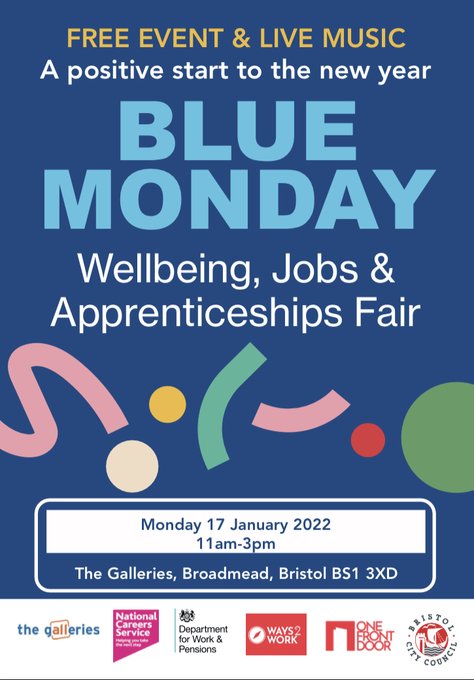 It is important to look after your health and wellbeing all year round. There are many ways to do this. Here are some tips from Mind:
What if you are feeling depressed?
Don't suffer in silence, there are many organisations who are there to help you. Below are a few resources that you many find helpful:
Samaritans: Call Samaritans for free on 116 123 or email them on jo@samaritans.org– they're always open and are there to listen.
Bristol Mind: Their support helpline – Mindline is open 5 nights a week, Wednesday to Sunday 7pm – 11pm on 0800 808 0330.
Shout:  For general mental health help, you can access help via text from Shout. Simply text SHOUT to 85258 for 24/7 crisis support. This service is available for free on major mobile networks, for anyone in crisis anytime, anywhere.
Also take a look at the Well Aware website for our database of services www.wellaware.org.uk or call 0808 808 5252. We can signpost you to organisations; support groups, community groups, events and activities that can help improve your health and wellbeing.